DermaSpa Summer Revived. Self-tanning without smudges?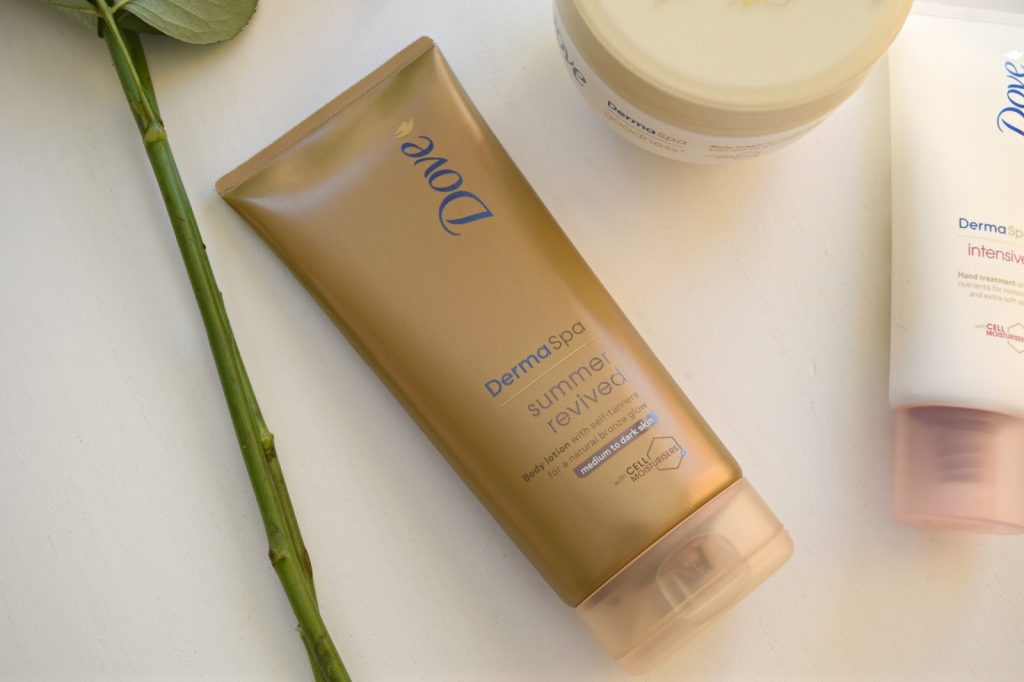 Today I'm glad to present you another cosmetic that I'm a happy owner of – DermaSpa Summer Revived. My beloved brand, Dove, promises to obtain effect of sun-kissed skin without the necessity of exposing our body to harmful sun rays. Indeed, spring is coming so this is the ideal time to give a try to such a cosmetic. Will DermaSpa Summer Revived deliver the effect of natural suntan before the summer season?
Moisturizing self-tanning body lotion is available in two versions: Fair to Medium Skin and Medium to Dark Skin. To be honest, I have never seen such a division so far. Now, I can see that this makes sense. In order to match my skin shade with tan that the product was supposed to deliver, I've chosen the first version of the cosmetic because after the winter my skin is very pale. To my surprise, it turned out that the effect of sun-kissed skin is really natural. I guess, the body lotion works that way because we can get the shade of DermaSpa Summer Revived that corresponds with our skin shade.
Unfortunately, when it comes to the composition of Dove DermaSpa Summer Revived, the ingredients are just a black art to me, therefore I can't tell you more than I read on the producer's website. Firstly, the body lotion uses Cell-MoisturisersTM technology (provides miniaturization and skin nourishment) that is enriched with ingredients responsible for making skin tanned. I don't know how it actually works, however I'm glad it does! During the first days of application my skin became slightly more brown and luminized. Personally, I find it very important for the self-tanning body lotion not to irritate or dehydrate my skin. Unfortunately, I used a few products like that in the past. In fact, DermaSpa Summer Revived works the other way round! It moisturizes well, therefore I can apply it as an alternative to regular body lotions that has to be used during the spring/summer season.
Last but not least, Dove DermaSpa Summer Revived series has very pleasant formula. It's a light body lotion of nice fragrance. I have no troubles in distributing the product evenly all over my body skin. Certainly, it's important to get any self-tanning products distributed evenly. Thanks to DermaSpa Summer Revived I don't have to worry about having nasty smudges that are the greatest disadvantage of self-tanning cosmetics.