Beauty benefits of grapes. My recipes for homemade cosmetics from grapes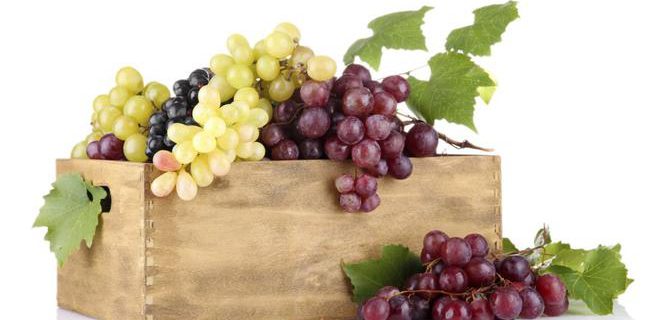 Apart from being incredibly tasty, grapes offer a huge variety of application in cosmetics. Owing to its anti-oxidising properties that is combined with being a great source of vitamins and minerals, they display extremely positive influence on skin because they delay ageing processes. This makes grapes a fine base for homemade cosmetics like body or face scrubs, or face masks. However, before sharing my recipes for grape cosmetics, I'll do my best to give you the most essential info on the very fruit – its composition, beauty benefits and its application in cosmetics. And what about grapeseed oil and grape extract? What are the applications of these two elixirs of youth?
Grapes – composition and beauty benefits
Grapes are rich in potassium, phosphorus, calcium, magnesium, boron, iodine, copper and iron, vitamins A, B and C and antioxidant polyphenols (flavonoids and resveratrol). Polyphenols are hidden in the skin of grapes, mostly in red grapes. Their main task is to fight free radicals. When it comes to resveratrol, it's a health-promoting chemical compound that rises the level of the good cholesterol, reduces blood pressure, stimulates burning off fatty tissue and minimizes the risk of sclerosis.
Grapes and their application in cosmetics
Microelements and chemical compounds that grapes house are used in cosmetics of conditioning and rejuvenating features. And I'm talking here mainly about polyphenols and vitamins which protect and regenerate skin. Do you know which part of grapes is added to cosmetics the most often? It's grapeseed oil and grape extract, yet the oil can be used as a self-standing cosmetic.
Grapeseed oil and its application in cosmetics
Grapeseed oil contains unsaturated fatty acids (palmitic, oleic and linoleic) that moisturise, protect and reinforce skin, as well as vitamins (A, D, E and K) that are fat-soluble. I'm sure that each one of us knows the beauty benefits of vitamins A and E, the famous 'vitamins of youth' having rejuvenating influence over skin. This means that they slow down skin ageing processes, replenish skin with water and shield it against the adverse external factors. For that reason, grapeseed oil is an incredibly popular ingredient added to many face creams designed to treat mature skin type and fight wrinkles. When it comes to vitamin K, it's responsible for controlling the process of blood coagulation. And this is great news for those whose skin is categorised as couperose. Vitamin K reduces this typical for couperose skin type redness and minimizes the visibility of broken capillaries. This translates into significant improvement of skin looks. I wholeheartedly recommend you applying it because I use grapeseed oil to my couperose skin myself.
Moreover, grapeseed oil displays soothing and mattifying properties therefore the cosmetics enriched with it can be used to take care of oily and acne-prone skin type. Basically, you can apply just the oil itself to your face skin, which in fact absorbs in skin fast and doesn't clog skin pores. It displays regenerating and nourishing action. Also, it improves skin firmness. This oil can be applied to hands, feet and basically to the entire body, including hair ends that get stronger and shiny due to being treated with grapeseed oil.
Grape extract and its application in cosmetics
Grape extract is made up of the most important components of flesh, skin and pedicel of grapes. Mostly, they are fruit acids, minerals, tannins, flavonoids, resveratrol and vitamins. Fruit acids display delicate exfoliating action and control sebum production. Polyphenols in turn, mainly flavonoids and resveratrol, protect skin against external factors and improve skin tension. Grape extract is frequently used as a constituent of moisturising and protecting creams as well as anti-age creams.
My recipes for homemade grape cosmetics
Grape Body Scrub – Recipe
In order to prepare grape body scrub, I use a mortar to mash up a half glass of grape seeds. Then I mix it with a half glass of grapeseed oil and sugar. This type of coarse-grained scrub can be used for the entire body message; it's really good at exfoliating dead epidermis cells and replenishing skin with water.
Grape Face Scrub – Recipe
Grape face scrub is super easy to prepare. All you have to do is mash up a handful of grapes to let the seeds remain untouched and combine with two spoons of honey and three spoons of oat flakes. Mix the ingredients thoroughly, apply to face and keep massaging delicately. At the end, rinse the scrub off with water and follow with a toner.
Preparation of grape face mask begins with mashing up a handful of grapes and removing the seeds. Then add two spoons of honey and make the mask thicker by mixing it with potato starch. When the mask is ready, I put it on my face and let it sit there for 20 minutes to rinse it off with warm water afterwards. Owing to such treatment, face skin becomes moisturised and highlighted. In fact, you don't have to believe me – just check it yourself.
Do you use cosmetics with grapes? If so, which one do you prefer better: the ones containing grapeseed oil or grape extract? Do you know any recipes for homemade grape cosmetics? If you do, please share them with us!