DIY – homemade, bi-phase makeup removal you'll fall in love with! <3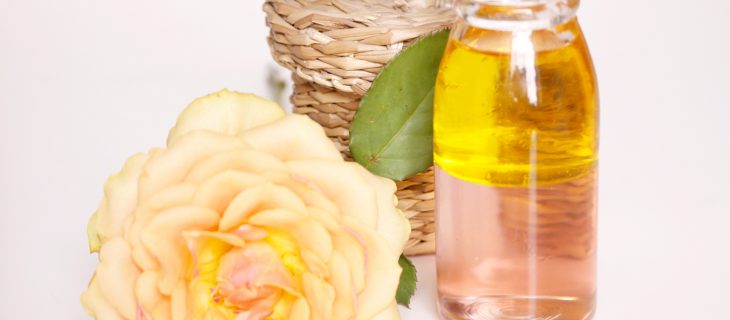 Hello Lovelies! 
Another DIY? Perhaps, but this time it's quite unique…very useful as well as quick and inexpensive. Let's say it's one of the most practical cosmetics created in the comfort of your own home. I am amazed by its incredible effects and I hope you'll love it as much as I do. What's all the fuss about?
Dear ladies, I'd like to introduce you to my bi-phase makeup remover. It's extremely easy to make yet very effective. Perfect in action. The key is to use the two ingredients that you should choose with caution 🙂 They must match the needs of your skin.
Homemade bi-phase makeup remover – how to 
As I have mentioned before, you will be needing two components, which – poured into a bottle – do not combine with each other, but remain separate and create two phases (oil and water). It looks very interesting and will certainly make the shelf in the bathroom more attractive (and if you reach for some beautiful bottle, the two-phase make-up remover will have the chance to become the most beautiful cosmetic on your shelf). I also recommend it as a gift for a friend (of course, you must know the type of their skin to choose the right hydrolat and natural oil, because these two things are needed to prepare this bi-phase makeup remover.
Homemade bi-phase makeup remover – what hydrolat to choose?
Hydrolates are excellent cosmetics – probably most of you know and value them. Do you have your favorite ones? Use one of them to create your homemade makeup remover. For those who do not know the properties of hydrolats very well, I'll present some of the best known:
Lavender hydrolat – ideal for all skin types (oily, acne, mature, dry, delicate); heals wounds and skin, has antiseptic, soothing, antioxidant and anti-aging effects.
Witch hazel hydrolat – ideal for oily, acne and couperose skin; it has a healing, cleansing action, gently tightens the skin, regenerates and soothes irritations, improves and stimulates subcutaneous circulation, seals capillaries, regulates sebum secretion.
Neroli hydrolat (orange flowers) – ideal for oily, sensitive, couperose, red and mature skin; it has antibacterial properties, soothes irritations, seals dilated capillaries and has anti-wrinkle properties.
Lime flower hydrolat – it will be suitable for delicate, sensitive, prone to irritation couperose skin; it has anti-inflammatory, healing, and soothing effects. Nourishes, reduces skin congestion.
Carrot seeds hydrolat – ideal for dry, mature skin with wrinkles – perfectly revitalizes, acts as an anti-wrinkle treatment, slows down the aging process, improves skin tone, has healing properties, anti-inflammatory properties, supports the renewal of the epidermis.
Damascus rose hydrolat – suitable for flaccid, mature, irritated skin that dries up and lacks elasticity. Moisturizes, soothes irritations, regenerates, stimulates circulation and reduces skin redness.
Green tea hydrolat – for every skin type, especially lacking firmness, with the signs of fatigue, acne, as well as flaky, dry, delicate and mature skin. It is a powerful antioxidant, it sweeps away free radicals, soothes irritations, restores moisture and shine to the skin, regulates and rejuvenates, and also reduces skin pores.
Of course, there are many more hydrolats. The ones mentioned above are the most popular ones, but if you want to explore the subject – you will certainly get to know a dozen other, excellent face hydrolats (you can also use them in hair care).
Homemade bi-phase makeup remover – what oil to choose?
Now comes the time to choose the right oil. Which one will work best for your makeup remover? Cosmetic butter, as well as solid oils, such as coconut oil, will be of no use. The oil must be in a liquid formula. No worries, you can choose from several dozen oils, each of which provides different properties and effects. Of course, the most popular is argan oil and I think that it will satisfy every type of skin, but for those who like to know more oils – I made a list of the most interesting and popular natural facial oils:
Argan oil – perfect for any skin type, but probably the skin that's mature, flabby, lacking tension and elasticity will love it the most.
Jojoba oil – perfect for oily, prone to acne and combination skin. Jojoba oil contains squalene, which regulates sebum and perfectly cares for the oily complexion. It is light, does not have comedogenic properties and perfectly smoothes and improves the condition of the skin.
Raspberry seed oil – is one of the most popular oils for mature skin. Known as the "iron for wrinkles".
Evening primrose oil – great for dehydrated, dry, irritated skin that requires regeneration, healing, and protection.
Sunflower oil – it's best for dry and lacking elasticity.
Avocado oil – ideal for dry and normal skin, lacking nutrition. This is the "seven vitamins" oil, which is a bit heavy but extremely nutritious and revitalizing.
How to create your own makeup remover?
Measure out the selected amount of oil (I always use about 20-25 ml, because my bottle has a capacity of 50 ml), add the same amount of water phase – in this case, the hydrolat of your preference. Oils and hydrolates can be exchanged and replaced at will – this way you can try out different product every time. I also like to infuse the whole mixture with vitamin E (just squeeze out the capsule). The phases should separate from each other, and before each use, you have to combine them – just shake the bottle very well, apply the liquid to a cotton pad, and wash your face with it until you remove all the make-up.
Instead of a hydrolat, you can also add selected micellar water. However, it would be best if it had as much natural ingredients as possible. best of luck! 🙂