Fruits and their cosmetic properties. My recipes for natural cosmetics with fruits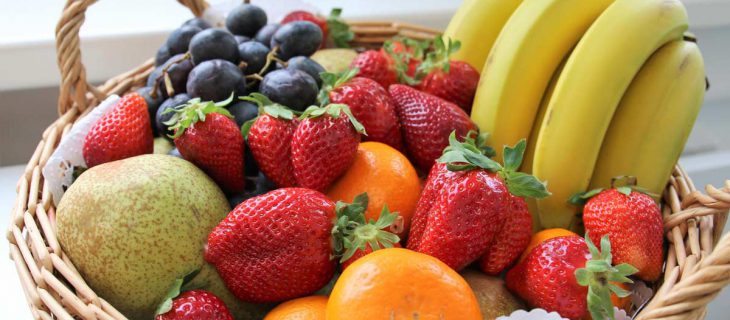 I love fruits. I use them in the kitchen and in the bathroom. Fruits in cosmetics are responsible for a beautiful smell and a juicy colour. What cosmetic properties do fruits have? What kind of DIY cosmetics can be prepared with them? If you don't have any idea, get to know my recipes for fruit-based beauty products, such as lemon facial cleanser, avocado mask for damaged hair or wild strawberry cream for dry skin.
Before fruits are added to cosmetics..
A fruit need to undergo complex treatment before it is suitable for use in cosmetics. Most frequently the juice is squeezed or the extracts are made. Cold pressed peels or pits are used to produce oils or essential oils, whereas crushed fruits are used for pulps or pastes. In addition to juice and pulp, there are also plant stem cells. They are extracted from the pulp, peel or the whole fruit and placed in a neutral package and then in cosmetics. This way the cells retain their natural properties and active ingredients.
The fruit can be processed into dry extracts, which can be then diluted in various dissolvents. The raw material contains a huge amount of active substances, that's why it is so frequently used to create products for intensive treatments.
In laboratories, preservatives are added to juices, pulps and other fruit forms. They are stabilized, so that they retain their properties, and standardized, which means that every gram needs to contain a certain dose of active substances. Depending on the form, those cosmetic products can exfoliate, moisturise, dye, bleach, delay the aging process or simply smell nicely.
Fruits and their cosmetic properties
First of all, they cleanse. Despite their name, they can also be found in vegetables and flowers. They are divided into two groups: alpha-hydroxy acids and beta-hydroxy acids. The first group includes, among others, malic, tartaric, mandelic, almondic, glycolic and lactic acids, and the other – salicylic acid. Their action involves loosening and relaxing bonds between skin cells, which results in exfoliation. Fruit acids clearly improve the condition of dry skin with discolorations and scars.
Fruit sugars and fruit waxes
They help to keep your skin well-hydrated. The most valuable sugars are polysaccharides, for example pectins. They are obtained from apples, quince and currants. They soothe irritations, have anti-inflammatory properties and also moisturize.
Waxes occur mainly on the peels and are supposed to protect the fruit from damage. These properties are used in cosmetics. Fruit waxes cover the kin with a thin, protective layer. Also, they serve as a base that improves the consistency of the cosmetics.
My recipes
1. Lemon facial cleanser
Ingredients:
100 ml of buttermilk,
1 tbsp of honey,
1 tbsp  of lemon juice.
Pour all ingredients into the bottle and mix thoroughly also shaking it. Once done, I apply the preparation with a cotton pad and after a few minutes I rinse with warm water.
2. Avocado mask for damaged hair
1 ripe avocado,
2 tbsp of sour cream,
juice of a lemon.
Crush the avocado and mix with the other ingredients. Apply the mixture to the hair and scalp, wrap in foil and a warm towel. After 20 minutes wash your hair as usually.
3. Wild strawberry cream for dry skin
250 g of wild strawberries,
2 tbsp of sunflower oil,
2 tbsp of lanolin.
Sprinkle strawberries with sugar and cook two times. Melt the sunflower oil and lanolin in a pot and add the juice (not too much as the cream will be too runny). Stir the cream until it cools down, then pour it to a glass or porcelain container. The cream can be stored in the fridge for up to 3 weeks.
Do you like cosmetics with fruits? Do you buy ready-made ones or do you prefer them yourself? Let me know what your favourite DIY recipes are!