Holika Holika Sleek Eggs for Face Cleansing. How They Work?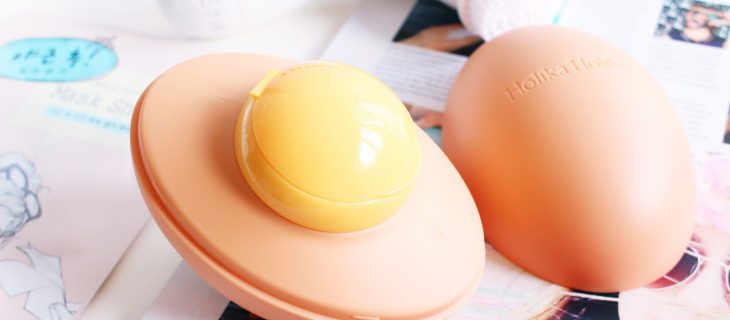 Using eggs in skin care – have you tried it? I use them every day! Not regular food eggs. I use Holika Holika Sleek Egg Skin (white and beige version).
What is it? Why do I actually swear by it? Read my fresh review and learn more on the interesting product. Believe me, it never goes unnoticed.
Eggs in beauty care
I'm sure you've already heard about the beauty benefits of eggs. This simple product conceals lots and lots of valuable substances that matter both in the kitchen and beauty care routine. It is mostly loved by hair, especially when it's damaged and needs reinforcement.
What properties does an egg have?
Most of all, an egg is a rich source of proteins. The yolk contains lots of vitamins A, B, E, and minerals such as zinc, iron, iodine, phosphorus, silicon and sulfate. That is why applying an egg to skin and hair really makes sense because it:
regenerates, rebuilds, strengthens;
delivers softness, smoothness, shine;
deeply nourishes;
works as an antioxidant;
reduces sebum secretion.
Holika Holika Sleek Egg Skin
What do eggs and Holika Holika Sleek Egg Skin have in common? There are two things that made me buy the product – packaging and composition. This is what convinced thousands of women worldwide to purchase the novelty and made Holika Holika Egg Foam so popular. It is one of the best-selling new arrivals.
Skin product that looks like an egg
Holika Holika Sleek Egg Skin looks like a real egg thanks to an original design – its shape, color, size resembles a hen's egg. It is available in two colors: beige face cleansing egg foam, white egg peeling gel.
The packaging consists of two egg halves – a cap and a container filled with the foam. After taking the cap off, you can see a dispenser resembling … yolk. Simply open it and pick up a portion of the product.
The fun thing is that Holika Holika Sleek Eggs are sold in boxes that look like egg cartons. Really unusual but I love it.
Holika Holika Sleek Egg Skin Ingredients
Both products in the Egg series contain ingredients which make them similar to real eggs. Holika Holika Sleek Egg Skin Cleansing Foam includes a yolk extract whereas Holika Holika Sleek Egg Skin Peeling Gel contains hydrolyzed egg shells.
The way egg yolk works is worth knowing – it stimulates enzymes and glands in skin, ensures skin smoothness and has an anti-aging effect.
Beige Holika Holika Cleansing Foam
It is a milder version of Holika Holika Egg by my beloved Asian brand. The product cleanses and conditions skin thanks to yolk and rice vinegar extract. It nourishes, moisturises, refreshes and primes skin for next products. Pick up a bit of the colorless Holika Holika Sleek Egg Skin, rub it in skin until it lathers, then, rinse it out using lukewarm water. If you like to wash your face with a special brush, this product is cut out for that.
White Holika Holika Peeling Gel
Enzyme yolk face scrub is a stronger version, cleansing the skin. It effectively removes dead cells and purifies pores, as well as absorbs sebum build-up. At the same time, Holika Holika Sleek Egg Skin neither causes skin irritation nor disturbs the natural lipid coat on epidermis. As a result, it leaves skin clean, not making it dry. Moreover, it has nourishing effect, boosts shine, smoothes fine lines and rejuvenates. The application is similar – gently massage face for several minutes and wash it off using lukewarm water.
I'm really big on such untypical beauty products. At the same time, I like it when the unique design goes hand in hand with quality and effectiveness – I found it all in this product.