How to prevent skin from getting too sensitive? My ways of soothing sensitive skin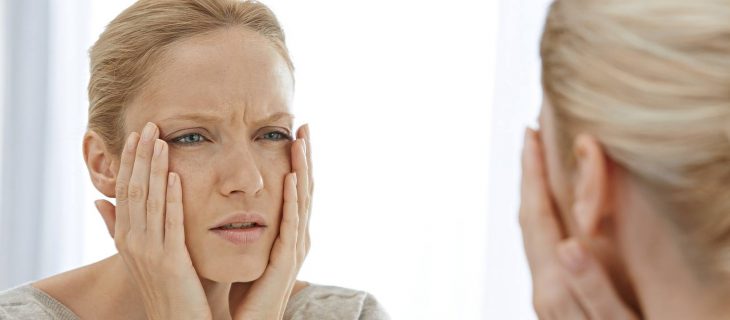 Adverse influence over skin condition have weather conditions such as sun, wind and rain. They cause changes in epidermis structure that considerably impede its self-regenerating processes. Sadly, we make this problem even worse when we treat skin inappropriately – our bad habits damage its protective barrier. Consequently, skin becomes reactive. How to tell that your skin is sensitive? How to protect, moisturise and reinforce it? How to prevent skin from getting too reactive? Here are my ways of dealing with sensitive skin.
How to tell that your skin is sensitive?
If you don't know whether your skin should be categorized as sensitive, carry out the following actions. The result you achieve will help you answer the question about your skin type.
Start with sliding a clean stick (ice cream stick) across your face. Try to keep pressing it evenly to your skin while sliding it. Due to the pressure and delicate scratching, a white streak should appear. If it gets red after a few seconds, this means that your skin is normal (or at least not sensitive). This redness that has sprung out is caused by the dilation of blood vessels and means that they react appropriately. The mark will remain visible for a few minutes to disappear completely later.
However, if your skin doesn't get reddened, it's a symptom of disturbed work of blood vessels that instead of becoming enlarged, constrict. This reveals that your skin type is sensitive.
How to protect sensitive skin?
If your skin reacts adversely to many factors such as water, wind and new cosmetics, and when it seems to be dehydrated, tight or bloodshot after eating spicy food, this indicates its hypersensitivity too. Additionally, sensitive skin can be inherited, especially if your complexion and eyes are pale.
If your skin is sensitive, do you best to shield it against irritations. In order to do it, choose cosmetics designed for allergy sufferers or kids (e.g. soaps) because they don't contain irritating substances. Last but not least, avoid being exhausted – fatigue and stress sensitize skin.
How to replenish sensitive skin with water?
Dehydrated skin is a condition that we should stay away from because this skin type is the fastest to show the passing time and is more prone to dermatological diseases.
Whereas normal skin type produces the right amount of lipids, which are organic fat compounds binding particular cells, then sensitive skin produces them in insufficient quantities. Consequently, skin becomes flaking off and turns rough; also, isn't as elastic as it should be.
If you have dry skin, you must apply a moisturising cream at least twice a day, and if you turned 20 – additionally, use an anti-age under eye cream. Moreover, I suggest you to treat your skin with a hydrating facial mask once a week and drink at least 2 litres of water daily. Basically, it won't harm you to replenish your body with water from the inside – through dietary supplementation, for example.
To delay skin aging processes, apply a thick layer of moisturising cream at bedtime; just cover your entire face, neck and hands with the product. This will shield your skin against unnecessary tension and chapping. During summer, you can spray the face with either mineral or thermal water – just like that, once in a while. Once you do this, wait a while and then remove the excess of water with a tissue.
How to strengthen sensitive skin?
Between epidermis and dermis there are capillaries that enlarge rapidly when being under the influence of external factors such as wind. Consequently, face starts featuring red marks. If this tendency becomes a habit, a tiny red threads, so called spider veins, will appear right underneath epidermis. In order to counteract this, you can take vitamin C as the prophylaxis. This substance is recognized for its blood vessel walls strengthening features. Moreover, apply protecting creams: during summer reach for sunscreens, whereas in winter go for products that shield skin against frost. Additionally, it's worth turning to decongesting preparations and well as ointments with arnica, myrtle, horse chestnut or rutina. When it's spring or autumn, you can give a try to iontophoresis treatment that strengthens and constricts capillaries. Naturally, choose only recommended beauty salons.
What are your ways of dealing with sensitive skin? I'm awaiting your suggestions!