Micellar water vs other make-up removers. Which one do I choose?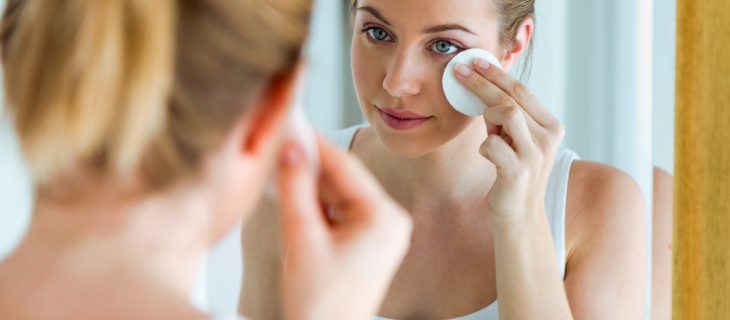 Micellar water is a combination of cleansing milk, toner and two-phase make-up remover. This is my favourite product as it quickly and effectively removes make-up, cleanses the skin and moisturises it. What is micellar water, who is it recommended for and how to use it? How is it different from other products for removing make-up? Micellar water versus cleansing milk, foaming facial cleanser, facial cleansing gel, toner or make-up remover.
What is micellar water?
Micellar water is a solution with microscopic structures called micelles. Micelles consist of two types of molecules: external, that attract water and repel fats, and internal, which repel water and attract fats. For this reason, micelles act as a magnet – they attract and absorb fat (in the form of excess sebum or the molecules of waterproof mascara) and dissolve the remaining impurities. What's important, micellar water does not break the skin's protective barrier (the hydrolipid layer).
Micellar water is rich in various active substances which support its action:
hyaluronic acid intensely moisturizes and softens the skin;
d-panthenol, or pro-vitamin B5, that penetrates deeper layers of epidermis, regenerates and soothes them;
plant extracts (for example, orchid or skylight), which give the complexion vitality and radiance.
Thanks to those ingredients, micellar water acts like cleansing milk (it removes make-up and moisturises the skin), foaming facial cleanser and facial cleansing gel (it removes all impurities and has antiseptic effect), toner (refreshes the skin and neutralizes its pH), and make-up remover.
In conclusion, I use micellar water because:
it refreshes the skin in the morning and prepares it for make-up;
it thoroughly removes my make-up;
it cleanses the skin of sebum and impurities.
Who is micellar water recommended for?
Micellar water is suitable for all types of skin, even the sensitive, allergic, atopic or ance ones. It is such a versatile cosmetic because it is devoid of fragrances or dyes and a minimal amount of preservatives.
How to use micellar water?
I pour a few drops of micellar water onto a cotton swab and gently wipe the face. There is no need to rub it because micelles attract all impurities. When I clean my eyes, I hold the soaked cotton pad against my eyelid for a few seconds. I take another cotton pad and repeat the process until the pad is completely clean. It indicated that my face is clean and ready for further care.
How to choose micellar water?
Every micellar water is intended for a different type of skin, because individual products differ in additional ingredients, which, for example, reduce sebum production or shrink dilated blood vessels. Because different types of product differently affect the skin, it is important to choose the product suited to the type and needs of your skin. I use micellar waters for sensitive skin, but I've seen those for oily, dry, combination, couperose, allergic and atopic skin. I bet there are even more of them.
Micellar water vs cleansing milk
Cleansing milk usually has fat formula that quickly and gently removes make-up and impurities and at the same time moisturises the skin. Similar effects give make-up removing creams which are a denser and thicker version of cleansing milk. Micellar water acts in a similar way as well because in 50% it is composed of fatty substances. The difference is, however, that it does not leave a greasy film on the skin.
Micellar water vs foaming facial cleanser/ facial cleansing gel
I gave up using foams or gels when I tried micellar water. I did it for a number of reasons. Such products may contain detergents (such as sodium lauryl sulfate) that can irritate the skin. Micellar waters are usually devoid of this type of substances.
Micellar water vs toner
Both micellar water and toner refresh the skin and neutralize the pH to restore its proper pH level. Both products close pores, thus preventing the formation of pimples. In addition, they provide the skin with minerals, vitamins and care ingredients. In fact, toners should be used after cleansing the face with milk or foam. Why? Because these preparations open pores of the skin and remove any residues of sebum, cosmetics and any other impurities that toner itself is not able to remove. Micellar water is a complete product that removes the dirt and then tighten and close the pores, so there is no need to use any toner afterwards.
Micellar water vs make-up remover
Micellar water has the same properties as two-phase make-up remover – they both contain two layers (oily and water one). Both of these products are designed to remove waterproof products because they penetrate deep into the layers of the skin where is removes make-up and impurities. None of them leave a greasy film around the eyes. In addition, micellar water and two-phase remover may contain active ingredients that leave a delicate layer with nourishing and moisturising effect on the skin.
What is the difference between micellar water and make-up remover, then? The latter is undoubtedly less effective than the former.
Do you like micellar waters or do you prefer other make-up removing products? If other, which one?