Mineral Loose Powder – How to Choose it &… Why?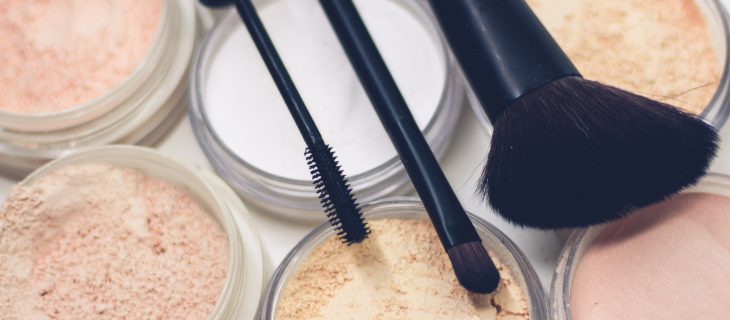 Today's post is very practical… I wonder if it's closer to skin care or makeup routine because it's strongly connected with both. Let me give a brief speech on a loose powder mineral foundation.
I'm sure you're gonna love the topic because we're becoming more and more conscious and demanding consumers who won't settle for less and don't like skin care compromises. It is really uplifting. I'm glad that makeup products have a conditioning, healing and soothing effect. Thanks to that, our skin feels comfy all day long. What are the benefits of a mineral foundation? Why should you replace your synthetic, drugstore foundation with a natural, loose powder foundation? What should the best mineral powder be like? Enjoy reading 🙂
What is a loose powder mineral foundation?
It is a loose powder which is obviously free of parabens, silicones, alcohols or any skin-harming substances. Powdered minerals, produced in the weathering, make up the base for the product. Of course, they are processed in labs and belong to synthetic substances (after all, they are artificially produced). I hope none of you think that there are mines in the world where people dig out e.g. zinc oxide… nope, it's not like that. Still, mineral foundations are non-comedogenic and – in comparison to other synthetics – they condition your skin instead of damaging it.
Originally, a mineral foundation was used for extremely sensitive, irritated skin or to soothe skin after invasive procedures. It healed and gave a stunning look. Today, mineral foundations can be used by everyone. Can or – to me – should! 🙂
What is a mineral foundation made up of?
Actually, it is built of up to three ingredients, obviously all-natural ingredients. Mica is always a major component – it has lots of versions and each one gives a different effect. Thanks to that, mineral loose powders can give an illuminating or mattifying effect or leave a satin-like finish touch.
Mica is an exceptionally lightweight mineral powder. As a result, the mineral foundation is mist-light and spreads smoothly and evenly. Apart from mica, natural UV filters – zinc oxide and titanium dioxide – are equally important. The protective function is not the only one they fulfill. They alleviate skin, heal all kinds of irritations, enhance skin tone and condition, and are ideal even for allergy-prone skin, broken blood vessels, acne or eczema.
There's one more reason for mineral substances being so beneficial: they don't clog skin pores so skin breathes easily whereas processes in epidermis aren't disturbed.
In other words: a mineral powder is made up of 'good, nature-derived synthetics'. Its composition is designed as to be free of preservatives, parabens, mineral oils, colorants and aromas. Not only are they carcinogenic but also make up an army of allergens – unsuitable for sensitive skin and often irritating skin that usually causes no problems.
Which mineral ingredients in a powder are actually mineral?
Trying to find the best loose powder mineral foundation? Make sure the list of ingredients is as short as possible and contains natural minerals such as iron oxide, zinc oxide, titanium dioxide, ultramarine, curcuma and cardinal purple.
Talc, mica, silica, kaolin, yellow, red and green clays belong to skin-conditioning substances and so-called fillers which smooth fine lines.
How to choose the best mineral loose powder?
Obviously, check the ingredients. The color and effects are crucial, too. After all, mineral powders are also adjusted to skin types, therefore you're going to find mineral foundations for oily, dry, dull, ageing skin, etc..
While shopping for a mineral powder, remember about the application – you need a large, fluffy brush (kabuki). You apply a few thin coats of the mineral powder, not one thick layer!
To me, patting the product on skin is the best way to evenly spread the foundation. However, many make-up artists like to use gentle, circular motions with a brush.